Join us in welcoming Rachel Miller to the Annex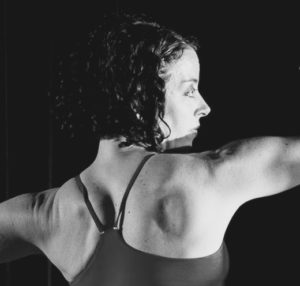 Sunday October 22nd
4-5:45pm
Wealthy Theatre Annex
1110 Wealthy St Se
Grand Rapids, MI 49506
$15/$12 students w/ID
For dancers 16+
Email [email protected] for more information
Contemporary Modern Technique
A contemporary release-based technique class, which is informed by the Normative technique created by Erick Hawkins. The class will begin with a somatically informed improvisational warm-up, continue to floor work, center, and across-the-floor work, and end with a large sweeping movement phrase. 
Rachel Miller is a company dancer, instructor, choreographer, and Midwest Regional Alternative Dance Festival (RAD Fest) Curator for Wellspring/Cori Terry & Dancers. She attended The Ohio State University as a Dance Major, holds a BA in Creative Writing through Western Michigan University, and an MFA in Dance through Hollins University in partnership with the former Forsythe Company of Frankfurt, Germany. Miller has performed all over the country, and her choreographic and screendance works have been presented in the Midwest RAD Fest in Kalamazoo, Detroit Dance City Festival in Detroit, Big River Dance Festival in Huntington, South Bend, Las Vegas, New Orleans, Fringe Festival Praha (Prague), and Indianapolis. She is a 2005 recipient of the Irving S. Gilmore Foundation Emerging Artist Grant and a 2010 recipient of the Kalamazoo Artist Development Initiative grant. Miller has sat on the adjudication panels for the Motor City Dance on Film Festival, RAD Festival, and Screen. Dance. Now. She is also a certified Pilates instructor, has been an Aerial Artist for ZFX Flying Effects in Louisville, has taught in the Western Michigan University Dance Department and for Blue Lake Fine Arts Camp. She is currently on faculty in the dance department at Grand Valley State University.