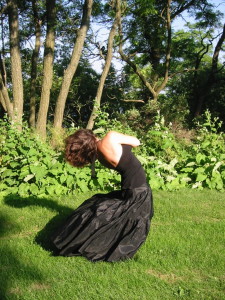 Join us in welcoming Anne-Rene Petrarca to Dance In The Annex!
Sunday October 25th
4pm – 5:45pm
$15/$12 (students w/ID)
For dancers ages 16+
Contact [email protected] for more information
Anne-René is a certified Alexander Technique teacher, dancer, choreographer and artistic director of Sculpted Motion. She received her MFA in Dance from the University of Wisconsin/Milwaukee, Alexander Technique certification from The American Center for the Alexander Technique (ACAT) in New York City and completed her undergraduate work at Point Park University. New York City was her home for twenty years. Anne-René was on the faculty at Dance Space (DNA), assistant faculty at The Juilliard School and guest artist at Sarah Lawrence College, Long Island University/Brooklyn and Hope College. Now living in the San Francisco Bay area, she currently teaches for the LINES Ballet Training Program and the LINES BFA program . She is also on faculty at Mills College, San Francisco State University and Shawl-Anderson Dance Center. Sculpted Motion has performed at the West Wave Festival (San Francisco), Mint Plaza, Shawl-Anderson, Berkeley Art Center, San Jose State University, Dance New Amsterdam Theater, Kumble Theater, Evolving Arts Theater, City Center Studios and the Makor Theater. Anne-Rene travels as a guest artist teaching and creating new works. Her focus has been to integrate Alexander and dance technique, which is a key element of her contemporary/modern technique class.
Anne-René believes in facilitating a safe atmosphere where the student has the freedom to explore, make choices and understand their individual habitual patterns. As a teacher she is always investigating new ways to present the work to the individual. Anne-René maintains a private Alexander Technique practice that caters mostly to performing artist.sculptedmotion.com