Join us in welcoming Marlee Grace to Dance In The Annex!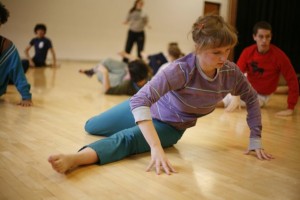 Monday June 15th & 22nd
Wealthy Theatre Annex
7-8:45pm
1110 Wealthy St SE
Grand Rapids, MI
All Levels
$15/$12 (students w/ID)
For dancers ages 16+
Contact [email protected] for more information

Join dance maker & improviser Marlee Grace for an evening of movement exploration, open to anyone interested in movement & composition (not just "dancers").
In this class we will warm into our bodies through a series of exercises calling on all of our senses, we will journal, we will free write, we will dance, and we will make small dances as an ensemble.
We will share our small dances, give each other feedback, and then make more small dances. Dances are small performance works that we will spontaneously create through improvisational tools we will learn in class.
There is no messing up in improvising, but there are ways to create balance and growth in a group ensemble and we will navigate them together.
Marlee Grace is a dance maker, fiber artist, and shop keeper at Have Company in Grand Rapids, MI. She received her BFA in Dance from the University in Michigan in 2010 and regularly studies compositional improvisation with The Architects.